Flamboyant Page\Park Theatre Royal extension in for planning
September 2 2011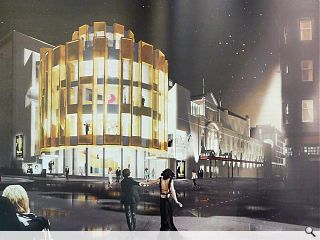 Scottish Opera have submitted major redevelopment proposals for Glasgow's Theatre Royal.
Designed by Page\Park the £8m proposal entails partial demolition of the Hope Street frontage to create a new signature entrance on Cowcaddens Road, together with four levels of foyer space in line with existing balconies.
The existing structure will be remodelled internally to host new office accommodation whilst the existing entrance is maintained and oth entrances connect within in an 'L' shaped foyer leading to a new axial approach to the main auditorium.
A separate service block 'bookend' tower provides ancillary support services to each floor level.
Describing the builds signature feature, which incorporates vertical ventilation fins and acoustic baffles, Page\Park explain: "The ambition is to bring the gilded splendour and sculptural shape of the main theatre into the new foyers in a contemporary manner, and we are exploring the use of a 'gold' copper cladding system for the 'melody'."
Expanding upon their guiding design ideals Page\Park surmise: "One of the challenges of the design team has been to make a special and memorable corner at the junction of Hope Stret and Cowcaddens Road.
"It will be as if a little bit of the splendid interior has escaped and flourished on the street edge, the auditorium and the lantern crowning the busy junction, working together to celebrate performance in the city.
"It will be fun building to visit; to climb through the levels will be exhilarating, guiding the visitor to the entrance to the auditoriums but at the same time framing the city around."
Back to September 2011