Doors Open Days mark 21st anniversary
August 31 2011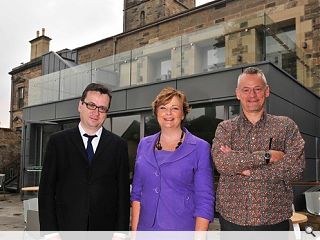 The 21st anniversary of Doors Open Days; an annual event in which bolts are unbolted, snibs unsnibbed and locks unlocked, to afford the public entry to normally closed spaces, has been marked.
Every weekend throughout the month of September the public will be able to slake their curiosity by traipsing around places and spaces which are ordinarily off limits.
The occasion saw John Pelan of the Scottish Civic Trust, Fiona Hyslop, cabinet minister for culture and external affairs and Malcolm Fraser of Malcolm Fraser Architects meet up on the terrace of Linlithgow Burgh Halls to share some cake.
Recently refurbished by Fraser the Halls project saw transformation of a 17th century jail and 19th century county hall into one 21st century arts centre. It forms just one of the properties on this year's programme.
Also open for a gander this year are Loch Sloy hydroelectric power station – which is opening up for the first time since its construction in 1950 and one of the soon to be demolished flats at Red Road in Glasgow.
Hyslop said: "The buildings opening their doors are part of our communities and are a fascinating way of discovering how things may have changed over the years and how events have shaped the landscapes of our towns, cities and villages."
Back to August 2011