NHS Lothian Sexual Health Centre is officially opened
August 31 2011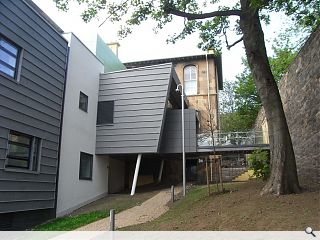 A new sexual health clinic for NHS Lothian has been officially unveiled today by the Minister for Public Health, Michael Matheson.
Initially designed by architects Campbell and Arnott and completed by JM Architects the £9m centre has been built to provide a one-stop-shop for sexual health services whilst retaining the historic 1860 Chalmers Hospital
Modern additions to the rear were demolished in order to allow creation of a new build extension, conjoined to the original via an atrium space.
To counter embarrassment at being seen entering or leaving the centre a private side entrance complete with a private corridor has been created to reduce the risk of patients being spotted by friends or relatives.
Matheson said: "The opening of the new Chalmers Sexual Health Centre will provide effective and patient-centred sexual health services for the people of Edinburgh.
"It is an excellent example of integrated sexual healthcare and a model of best practice we would like to see replicated elsewhere in Scotland."
Opened in June the centre has already welcomed over 10,000 patients.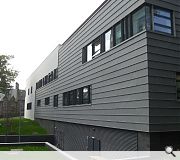 The hospital is named after George Chalmers, an Edinburgh Burgess who bequeathed his estate for the purpose of establishing a sick or hurt hospital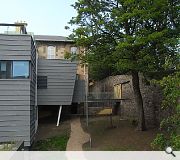 The new entrance had to be cut through a listed boundary wall
Back to August 2011