Dutch 'mountain' joke falls flat
August 23 2011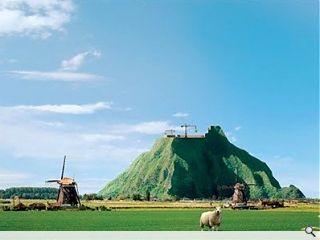 Holland may be famed for reclaiming land from the sea but it is its current attempts to reclaim land from the air which are stoking international interest
Dutch plans to erect a mountain up to 2km high may have started as a joke but they have assumed a life of their own after being first aired by journalist Thijs Zonneveld.
Perhaps cognisant of rival plans for a 1km tall mountain at Berlin's Templehof airport, or cognisant of the phrase: "If Mohammad can't go to the mountain, let the mountain come to Mohammad" a competition has been launched to imagine how such a dream can be made a reality.
These include identifying how best to provide appropriate foundations, whether the development should be hollow and what impact their might be on flightpaths around Schipol Airport.
Today millions of Dutch citizens travel abroad on holiday to experience the pleasures of natural verticality – the tallest hill rises to a puny 323m.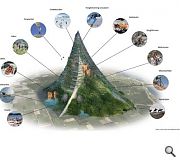 A range of tourist attractions would be accomodated on the mount - including ski slopes and rock climbing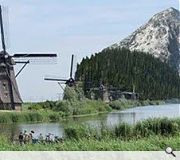 Campaigners have a mountain to climb if their vision is to be realised
Back to August 2011