Dalmore distillery evokes the spirit of whisky making
August 22 2011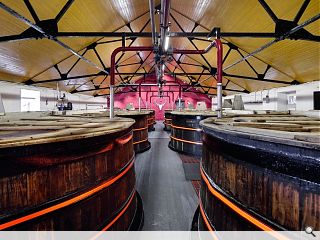 JAMstudio have added a touch of drama to a visitor centre for The Dalmore, refurbishing existing buildings to create an innovative Highland whisky distillery near Inverness.
Reflecting The Dalmore brand the centre boasts
a theatrical finish
of secret doorways, velvet and leather finishes and an internally illuminated tasting table.
Practice co-founder Marie-Louise Dunk said of the design: "Carefully controlled lighting to change the mood and the atmosphere. Stills underlit to give the impression of fire and warmth. The smell of the spirit. The sound of the grain being milled. The taste of The Dalmore at the end of your journey. All these combine to create an experience to remember.
"Scottish craftsmanship was used to shape the project. From the carved oak boardroom table inlaid with the solid silver 12-point stag's head which appears on all bottles of Dalmore, to the specially designed bottle display cases, and the "bloodline", a sparkling glass mosaic, that runs throughout.
"We've brought a new concept to distillery tours while making The Dalmore's heritage the centrepiece of the exercise. We've given people a better understanding of distilling, using dramatic lighting to bring a sense of theatre to this magical process."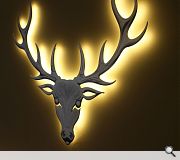 A stags head is a recurring item of branding which runs throughout the centre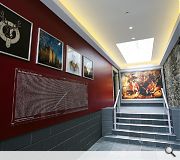 Lighting effects are used extensively to enhance the visitor experience
Back to August 2011