Construction underway on Glasgow Gurdwara
August 16 2011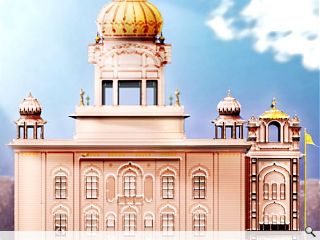 Construction of a Sikh Temple in Glasgow is racing ahead with erection of a tower crane on the Berkeley Street site.
Gurdwara Singh Saba has commissioned the £15m temple, which will accommodate around 1,500 of Scotland's estimated 10,000 strong Sikh population. It will be the only purpose built Sikh temple in the country.
Phase one of the two stage construction process will see erection of a polished limestone main building, boasting a domed roof of glass reinforced plastic.
ATG Services are carrying out groundworks to clear the way for this, including removing an existing surface car park, decontaminating soil and digging out a new three storey underground car park, accommodating 257 vehicles.
ATG director Mark Kinney said: "The Glasgow project is particularly challenging because it is on a compact site adjacent to an existing small Temple, a primary School and the home of the Royal Scottish National Orchestra (RSNO) and involves very substantial underground work."
Although construction is proceeding apace an additional £1m still needs to be raised by the Sikh community to see it completed.
T.A Kernoghan are the main contractors on the project, with Calford Seaden acting as property consultants.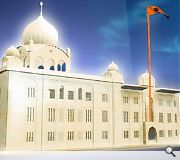 Phase two plans will significantly extend the flamboyant main building
Back to August 2011