Cranes mark rise of latest recruit to London's skyscraper menagerie
August 17 2011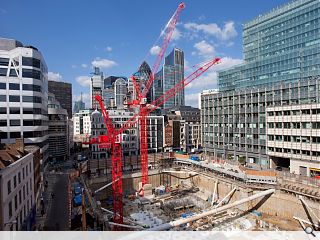 London may still be recovering from its worst bout of rioting in living memory but this hasn't stalled progress on the 'Walkie Talkie', a 37 storey skyscraper being built at 20 Fenchurch Street in the City.
Progress is now denoted by the erection of twin red tower cranes which punctuate the skyline as a firm statement of intent from its developers the Canary Wharf Group and Land Securities.
Branching out from their docklands heartland the group, famed for the sterile boxes which define their east end hub, are adopting an altogether more curvaceous design for the more eclectic tastes of the City.
The Rafael Vinoly designed edifice is scheduled for completion in 2014 when the public will be able to visit its rooftop sky garden offering 360 degree views of the capital.
Cormac MacCrann, from Canary Wharf Group says: "It is a very exciting moment for us to see the first cranes climbing above the City of London. These are the first of six cranes which will appear on the City skyline and eventually transform the site into a London icon, topped by a spectacular sky garden."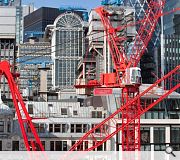 A small forest of cranes will soon denote the site boundaries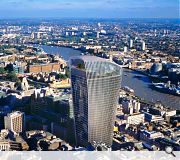 London's tallest garden will top the tower
Back to August 2011