Glasgow Caledonian University lodges campus expansion plan
July 27 2011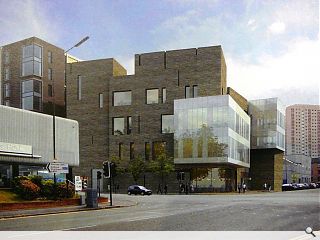 Glasgow Caledonian University has teamed up with INTO, an organisation specialising in selling English language training to overseas students, to propose construction of a £32m academic teaching space and student accommodation block at their city centre campus.
Conceived by Manson architects the scheme comprises two distinct elements connected by a secure courtyard, a teaching space and an accommodation annexe.
Occupying an area of cleared brownfield land bounded by Dobbies Loan, Kyle Street and Couper Street the teaching space, faced with Caithness stone, incorporates a feature glazed projection to the front to act as a campus landmark and sports a public café to improve streetscape interaction.
The residential portion of the build will be clad in buff brick infill panels, composite wood veneer and reconstituted stone corner elements.
Glasgow Caledonian Vice-Chancellor Pamela Gillies said: "The site is an important gateway to the city and represents a key part of our expansion plans... We believe that this high-quality building with real presence will enhance our international reputation."
It is planned to have the complex open its doors by early 2014.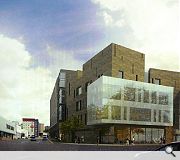 Glasgow Caledonian is keen to attract more high spending overseas students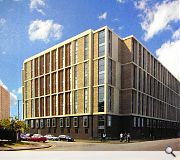 Manson have elevated ground floor flats above the street line and introduced planting as a defensive measure
Back to July 2011