Edinburgh's newest restaurant opens its doors
July 27 2011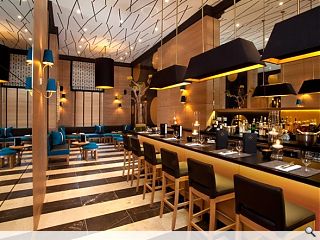 Edinburgh's very own Michelin Man, restaurateur Martin Wishart, has opened his third restaurant in Edinburgh, the Honours – a brasserie designed with an eye to the top eateries of London and Paris.
The Michelin starred chef employed Ian Smith Design to rejuvenate a tired 70's premises at 54 North Castle Street with a contemporary infusion of polished plaster, mirror, oak and marble.
Brian Saddler, Smith's marketing and business development manager, told Urban Realm: "The design concept of the bar and restaurant of The Honours was to give a contemporary twist in a traditional setting, to keep the classical proportions of the pillars and cornices. It also presented an additional challenge on how to enhance a space that was both long and narrow and high.
"To achieve this Smith used alternating polished plaster and mirror to give the rooms the illusion of increased depth. The alternating stripped marble floor which runs across the rooms was designed to give the bar and restaurant width.
"The ceilings were decorated in an abstract design to bring the ceiling down and to give the rooms better proportion."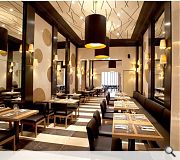 A lively atmosphere is promised at the new haunt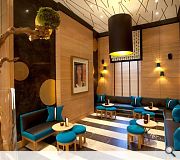 Diners are promised a swish eating experience
Back to July 2011