Revised Odeon redevelopment plans submitted
July 26 2011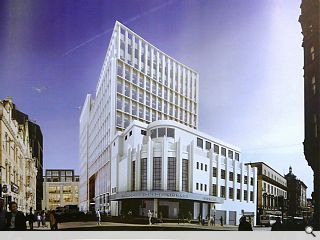 Market conditions and the unaffordability of a prior glass specification have spurred a rethink of plans to redevelop a prominent art deco cinema in Glasgow – leading to a revised planning application for the prominent city centre site.
Already
subject to a 2007 consent
the developer, Duddingston House and Gordon Murray architects have revised their plans to reflect the changed economic reality.
The result is a dual element design incorporating the retained art deco frontage as a stand-alone hotel element adjacent to a 10 storey £29m office block.
This incorporates 130k sq/ft of accommodation of exaggerated height thanks to vertical openings clad in polished cast Portland panels, extruded at the top to delineate a crown whilst lower floors contain retail elements.
A vertical slit runs the full height of the north façade acting, representing a 'curtain' being pulled open – intended to be akin to the folds in traditional cinema screen curtains.
Arguing the grounds for demolition of the brick box bulk of the cinema, Duddingston argue that clearance will allow easier marketing of the property to potential tenants, increasing the likelihood of a pre=let and minimising disruption to prospective hotel tenants.
In its place is planned an 'extrovert' outdoor cinema space to contrast with the brick hulk of the existing cinema.
Assuming approval site clearance will take place by April 2012 at the earliest.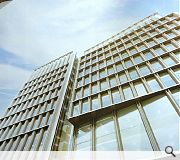 Adjacent developments from City Site Estates and Land Securities are spurring Duddingston to realise their own vision
Duddingston claim early demolition of the bulk of the cinema will encourage prospective tenantsa early in order to encourage
Back to July 2011