Pewter Pot plans panned
July 13 2011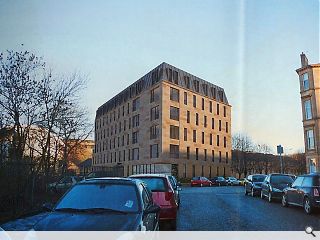 Bonar Associates have drawn up plans to redevelop the Pewter Pot pub in Glasgow's west end into residences for 108 students.
Designed for Glasgow University by developer Joe Logan the scheme is intended to "celebrate" the Glasgow tenement, one of which once proudly stood on the site until the 1960s.
Sporting traditional materials and a mansard roof the scheme will also partially obscure a low quality brick housing estate.
Logan said of the scheme at a community meeting: "It is a modern building but it also builds on the traditions of what we have seen elsewhere in Glasgow. We are trying to imagine what the tenements that were demolished might be like today.
"The proposal is to make a building which uses stone, slate, traditional materials, combined brick and with decorative features."
These words failed to win over several local objectors who claim the building as it stands must be classed as "over development".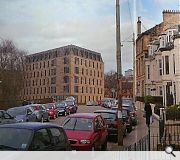 An attempt has been made to engage the street with artist commissioned glass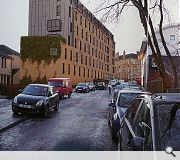 The six storey scheme rises above the tenement line
Back to July 2011