Scottish school adopted as part of UK's leading carbon assessment programme
July 14 2011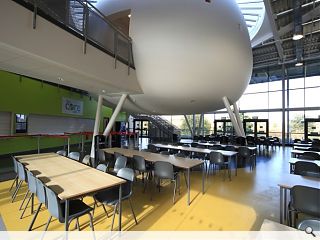 A Scottish school is to play a critical role in attempts to make buildings across the UK carbon-neutral.
BAM Construct UK - the firm that designed, built and manages facilities for St Peter the Apostle School in West Dunbartonshire - is only the second UK contractor to win environmental impact funding from the Government's Technology Strategy Board for non-housing projects. The school's energy and sustainability performance will be intensively evaluated as part of a four-year assessment programme for new buildings.
BAM also won funding for a second school to be evaluated, Cressex Community School in High Wycombe. The intensive evaluations draw upon a range of disciplines such as BAM's design practice, its construction operations, and its facilities management arm.
Until now, the recipients have been mainly clients, architects or consultants. Jesse Putzel, BAM's climate change manager, said,
"With St Peter the Apostle, BAM developed the design from the concept architecture into the build programme. BAM also manages the facilities at the school, and the intensive evaluation will benefit the other West Dunbartonshire schools and the local authority.
"The research will also help our property development business – which is developing 110 Queen Street in Glasgow - as we continue to grow our expertise and capabilities in post occupancy evaluation and help the two schools to reduce their energy consumption, with all the additional benefits that brings."
Mr Putzel added: "It's vital that the construction is part of the Performance Evaluation Programme because the construction industry as a whole needs to understand building types, design strategies and occupancy patterns to help us achieve carbon-neutral buildings by 2019.
The Government aims for all new domestic buildings to be carbon-neutral by 2016 and for all new non-domestic buildings to be carbon-neutral by 2019.
Back to July 2011