Designs emerge forlatest phase of Edinburgh Biomedical masterplan
June 7 2011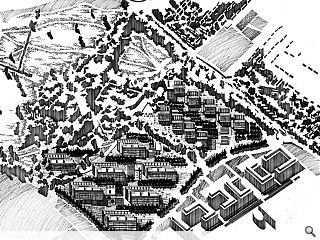 A planned fourth phase of works at the Edinburgh Biomedical masterplan have edged closer with the naming of shortlisted teams.
Amongst them is a bid by Alan Dunlop architect, Morgan Sindall and Erz landscape architects to incorporating 1msq/ft of 21st century lab space on a sensitive site dating back to the 13th century.
Dunlop said: "I think that the lab design we developed is perfect. It seemed to us that there are lots
of opportunities for linking such a structure to create interesting layouts and variety, social spaces and support particularly on plan and in height, linked to landscape. We were influenced by Kahn, of course at Salk.
" However, from our experience as architects, designers and landscape architects and Morgan Sindall's expertise in lab design we're generating much interest in developing it for use elsewhere".
Keppie's masterplan for the biomedical quarter, located in Edinburgh's Little France district, entails a 15 year vision.
Back to June 2011