Student outlines alternate Red Road vision
|
Send to friend
June 4 2011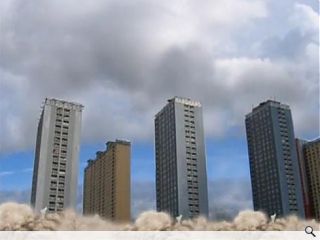 Glasgow School of Art students Philip Zoechbauer, Yeh-Lun Chou, Claire Johnston and Francesca Edge have compiled an interesting animation charting the rise (and demise) of the infamous Glasgow tower block.
The film notes that during the 1960s Glasgow had the largest high rise build rate in Europe, a statistic which had reversed by the late1990s when it had the largest high rise demolition rate.
Red Road alone cost £154.6m to build and will cost £60m to tear down and redevelop - a fact which Zoechbauer uses as a springboard to imagine whether imaginative re-use of the structures might represent a better path.
Inspired by the ideas of Archigram and Rem Koolhaas an incremental series of expansion and remodeling is envisaged to carry the landmark blocks into the future.
Back to June 2011