Elgin trials "people friendly" street designs
June 7 2011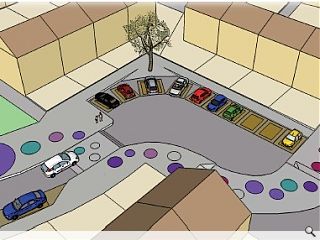 Urban design charity Sustrans is to trial the re-design of Cockmuir Place in Elgin this Saturday in an effort to establish the impact upon travel within the vicinity.
These include a colourful stepping stone effect to guide children to and from a nearby school, creating green space through tree planting, rerouting paths to afford residents greater privacy and re-defining car parking to discourage speeding.
Alex Bottril, Sustrans' street designer behind the project, says "So far the designs have all been on paper and models, but this chance to map them out on the street itself to help us see what designs works and what the reality of their design will mean for people traveling within the area, whether that is on foot, by bike or by car. This event will help finalise the designs for the neighbourhood."
Sustrans are working alongside Elgin Community Council and the local community forum in the Moray Council project.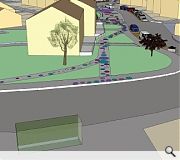 Community street parks will be set up to give residents a space to hold strweet parties and bbq's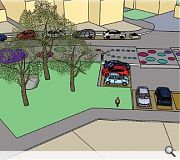 Uncoventional design solutions have dreamed up by locals
Back to June 2011