Strathclyde Police submit Dalmarnock HQ plans
June 3 2011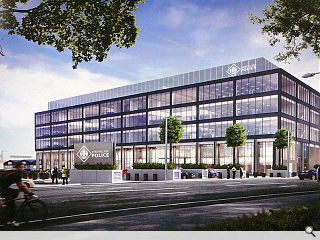 Ambitious plans for Strathclyde Police to move their force headquarters from their dilapidated Pitt Street HQ in Glasgow city centre to a shiny new edifice in Dalmarnock have advanced with submission of a planning application.
Designed by Cooper Cromar the scheme comprises a five storey modernist block set back at an off angle to the river Clyde and the planned East End Regeneration Route.
The premises are surrounded by expansive surface car parking for up to 190 vehicles and a portion of public space comprising a granite sett paved plaza opening out onto a refurbished Clyde Walkway.
Meeting the ground via a two storey base concourse punctuated by feature limestone and granite columns the structure rises through three storeys of full height glazing framed by black metal cladding panels.
Though a high security environment boundary defences will be mitigated through employment of a highly transparent security fence to the south, allowing unobstructed views across the river.
Vehicle barriers will also be camouflaged within dense hedgerow.
Images are indicative only.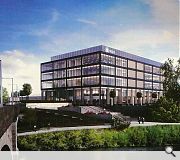 Halcrow Yolles are acting as structural engineers on the scheme
Back to June 2011