Northern Ireland's tallest sculpture takes shape
May 27 2011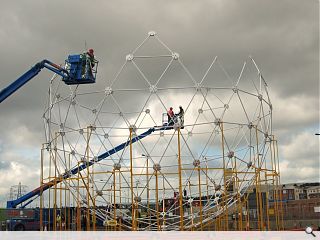 The latest symbol of Belfast's regeneration, a giant steel sculpture labelled RISE, is living up to its monicker on the Belfast skyline.
Designed by UK artist Wolfgang Buttress the soaring steel set piece, at 37.5m, will be the tallest piece of public art in Northern Ireland, providing a notable landmark for motorists navigating the Broadway roundabout, a key gateway into the city.
It will comprise two spheres, one encased within the other, as a symbolic representation of a rising sun and hope for the future.
Buttress said of his work: "This has been one of the most important pieces of sculpture I have worked on. For me, it was essential that RISE look the same from all sides, so no matter which part of the city you view it from it gives the same message and turns its back on no-one."
The sculpture saw 1,600 separate discs and 2,400 poles individually textured by Highland Galvanizers after being contracted by fabricators M Hasson & Sons Ltd.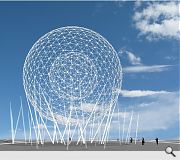 Once complete shoppers will be able to wend their way under the structure to a nearby shopping centre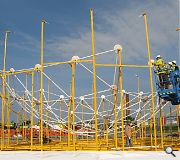 The structure is the largest ever to take a dip in Highland's zinc galvanizing bath
Back to May 2011