Scott Sutherland School of architecture's Big Crit concludes
May 26 2011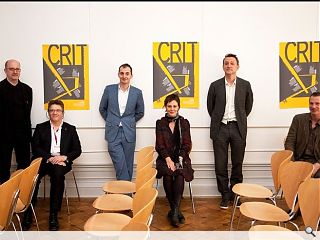 Aberdeen's Scott |Sutherland School of Architecture has staged its annual "Big Crit" event at which a host of today's top architects were invited to critique tomorrow's architectural talent.
The day long event saw 26 students drawn from each stage of the school's architecture course to deliver a presentation on their work to a panel of architects, commentators and members of the public.
This year's panel comprised: Peter St John of Caruso St John; Annalie Riches from Riches Hawley Mikhail Architects; William Mann from Witherford Watson Mann Architects; and Ellis Woodman, editor of Building Design.
They were bolstered by the attendance of Neil Gillespie of Reiach and Hall and Alan Dunlop of Alan Dunlop Architects, both of whom are visiting professors on the school's Masters programme.
Amongst those exhibiting work was Stage 2 student, Sam Auchterlonie, who presented his design of a Quaker meeting house in Old Aberdeen.
Auchterlonie devised the scheme to mark a progression from the noise filled streets of Old Aberdeen through the building to the sanctuary and tranquility of the meeting room itself, illustrated via material and light.
Commenting on the format of the event, Sam said: "I felt privileged to have my work critiqued at such a high level. I feel it is always beneficial to get work critiqued by different people outside of studio lecturers as it helps inspire new ideas or strengthen old ones, both of which are highly beneficial.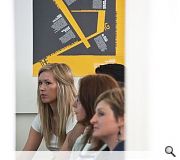 Members of the public came along to observe the exchanges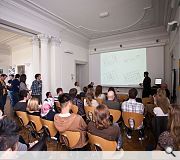 Students communicated their work via a talk, leaflet and modelwork
Back to May 2011