Glasgow calls for high speed rail study
May 26 2011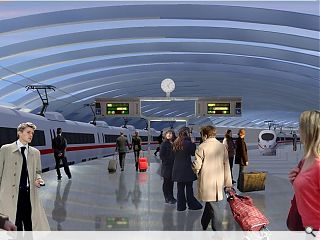 Glasgow City Council has outlined ambitious plans to transform High Street station into the city's third main rail terminus.
The plans have been drawn up in a bid to leverage £7m in funding from the Scottish Government to investigate possible route alignments for the Glasgow and Edinburgh legs of a speculative high speed rail link connecting the UK's major cities.
Thus far, detailed plans have been drawn up only so far as Birmingham by the UK government, an anomaly Glasgow is now seeking to address.
At present High Street Station is viewed as the best candidate for such a terminus (with Bellgrove also under consideration), offering existing links to the north and south of the city assuming Crossrail and an integrated Glasgow Cross station are fully implemented.
An extension of the Central Station platform lines out across the Clyde is also being considered but existing congestion at the station is thought to count against it.
Crucially the new line will operate a new fleet of larger gauge trains, stretching to 400m in length, requiring a station concourse of matching extent with two island platforms to manage anticipated growth.
Councillor Gordon Matheson, Leader of Glasgow City Council, said: "It's important that we act now so that we're not left behind. As a city, we need to continue to be ambitious in planning ahead and we have always seen high-speed rail as having enormous potential, economically and environmentally.
"It is essential for Glasgow to be plugged into high-speed rail. The risk, if we are not, is that it could give an economic advantage to cities in England."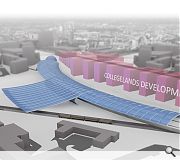 Connectivity to the south and south west rail networks would be provided via a reopened Glasgow Cross with travelator link to High Street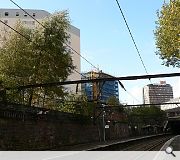 The new terminus would be built on a viaduct above the existing High Street Station
Back to May 2011