£65m George House redevelopment plan ditched
May 23 2011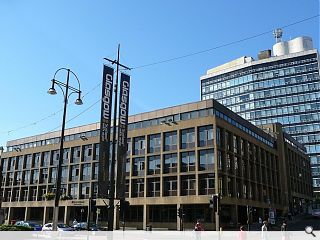 Plans to redevelop the 1970s George House on the northern edge of Glasgow's George Square have been shelved be its owners, Redevco, following the surprise
rejection of a Reiach & Hall designed replacement by planners
.
This was despite approval being granted for a similarly scaled office development by Cooper Cromar for the G1 developments on the south side of the square.
Instead architects Reiach & Hall have been forced to return to planners with a scheme of vastly reduced ambition, simply giving the existing block a facelift with external alterations to entrance, windows and roof plant.
George Square has become the stub of jokes since GCC redeveloped the historic meeting space with a puddle prone red tarmac finish and failed to replace felled trees.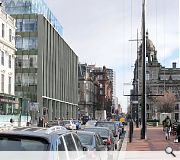 Critics averred that the replacement wasn't far removed in form from the existing block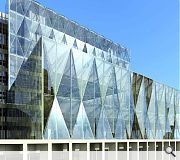 Reiach & Hall envisioned a crystaline cloud element sitting above the main body of the block
Back to May 2011