Gross Max and Sutherland Hussey win Templehof park competition
May 13 2011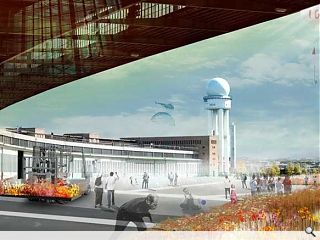 Edinburgh based landscape designers Gross Max and architects Sutherland Hussey have seen off 78 challengers to secure a £54m commission to redevelop the site of Berlin's Templehof Airport.
Proposals call for the creation of a new park on the sprawling 280ha site, alongside construction of a new pavilion and the retention of the famous 1930's terminal building, designed by Albert Speer.
Jurors were swayed by the "innovative" aspects of the pairs designs, which include fruit gardens and apiaries for bee hives in what will be one of the largest city parks in Europe.
City officials had originally called for a Matterhorn style mountain to be erected on the site, an ambition which will be met in part by Dutch practice Eelco Hooftman who will build a 60m artificial hill for climbing enthusiasts.
The project is due to complete in 2017 to coincide with Berlin's International Garden Festival.
Back to May 2011