Edinburgh "capitulates" as tram spend hits £440m
May 13 2011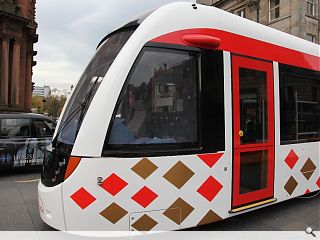 Edinburgh's tram chiefs have settled their long running dispute with contractors after agreeing to shell out an additional £30m to ensure one returned to work and acquire equipment from another.
It comes as a new report reveals that the total spend on the troubled project has now hit £440m, with the first tram still years away from trundling down Princes Street.
This has raised fresh questions over whether the final bill of £545m is still attainable or will, as many suspect, have to be increased in light of numerous delays and ongoing turmoil.
Following a bodged first attempt to lay tracks on princes Street, which are having to be dug up and relaid after cracking the surrounding road surface under pressure from traffic, contractors have been forced to close the key artery for another 9 months whilst the work is done properly.
It is hoped to deliver the line from Edinburgh Airport to St Andrew Square but this is subject to agreement from councilors in June.
If this is not forthcoming only "priority works" will be seen through to completion with the remainder of the contract "automatically terminated," necessitating negotiation of "separation terms".
Former Network Rail head John Carson described the terms as a "complete capitulation" on the part of the council when speaking to the Scotsman.
Back to May 2011