Egyptian Halls redevelopment options published
April 25 2011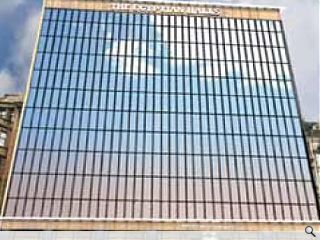 Dundonian property developer Derek Souter has published his "
final opportunity
" plans to regenerate Glasgow's Egyptian Halls, warning that demolition is on the cards if the impasse can't be broken.
It puts forward a rationale to demolish the A listed structure, a plan which would see the Thomson masterpiece swept away for an 12 storey, 225 bed 'Egyptian Halls Hotel' designed by the Morrisson Partnership. This is centred on the "non viability" for Union Street Properties to fund the redevelopment whilst retaining the Halls owing to current economic situation.
The report notes: "If such circumstances do not improve in the short to medium term then there is a strong likelihood that development based upon retention of the existing building as an Hotel and other complementary Leisure and Retail uses will not get underway for many years. The longer those circumstances continue, it is increasingly unlikely such a project will happen. In which case the only option will be a New Build Development."
USP stated that they did not "dispute at all that The Egyptian Halls is without doubt a hugely important, iconic building" adding that "demolition would not be ordinarily considered. However this is an extraordinary building, which has required extraordinary intervention for a long, long time now. The Scottish Government have stated they won't become involved so the only other alternative becomes the ONLY alternative!"
Structural engineer John Addison said: "There has been a progressive erosion of all the "positive" elements which had at one time made this project viable in terms of a "conservation" approach rather than the previous "gut and stuff" one which would end up with all internals replaced leaving perhaps only the front facade."
Both USP and USI insist that the demolition proposals have been prompted by Scottish Government advice to treat the Halls as "a wholly commercial project". Advice which led to USP tabling the proposal which would result from the withdrawal of any subsidy offered by USI, which is itself opposing the USP plans.
USI insists that a funding gap, which was as low as £3m, could be bridged by the business rates accrued within the first decade of redevelopment.
Souter told Urban Realm: "As developers for the past 13 years USP & USI have managed to secure the foundations and the controlling ownership interest, which should have already saved the Egptian Halls. However this has not yet been achieved due primarily to the absence of joined up effective government."
Further discussion is invited on the developments
official Facebook page
.
Back to April 2011