World's smallest eco-home showcased
|
Send to friend
April 22 2011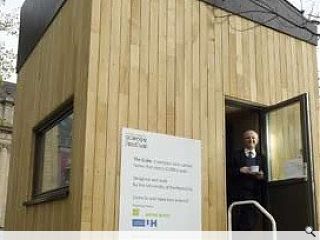 Lawrence McPherson Associates have unveiled the world's smallest eco-house, a dimensionally restricted shed like structure which measures just 3x3x3m.
Despite its diminutive stature its architects believe The Cube can have a big impact on showing the way ahead with its sustainably sourced sweet chestnut cladding and plethora of energy saving devices.
Incorporating a lounge, table & chairs, double bed, shower, and fully fitted kitchen the structure offers everything the non-claustrophobic could want.
Illuminated via LED lights the building features an Ecodan air-source heat pump, cork flooring and 2m of head room.
Built as a technology demonstrator the home could contribute around £1,000 a year to its owners pockets through the sale of surplus energy back to the grid.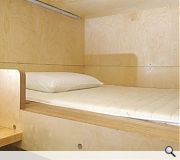 The cosy abode makes extensive use of wood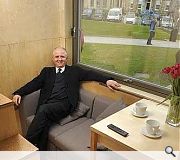 The southern facade and a mono pitched roof are encased in solar panels
Back to April 2011