Skypark to marry business with pleasure for revamp
April 18 2011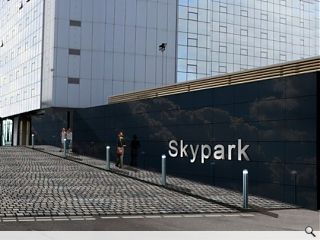 Skypark, an edge of centre office complex in Glasgow, is to be remodeled by its owners to create Scotland's first 'business hotel concept'.
It will see Moorfield Group and Resonance Capital introduce a hotel style concierge service to the campus alongside a tenant's lounge and a wider refurbishment of offices, lobbies, entrances, lighting, lifts and facilities.
Designed by 3DReid and fashion designer Camille Longo the Spring clean will echo similar concepts employed at London's Tower 42 and BrindleyPlace in Birmingham, aimed at encouraging staff to make more of their limited free time throughout the day.
Lorigo said: "We are well underway to show the softer side of Skypark and I have been delighted to turn my marketing and branding expertise to create a stylish environment and to build the community here. We are setting up onsite business networks, charity fundraising and tenant's monthly lunchtime socials; newsletters and a Facebook page are all underway.
"We're offering local artists a chance to pitch exhibits in our main lobby area. Our first exhibition is fractal photography to be unveiled in mid-April."
A first phase of works will commence on site immediately with the full remodeling works anticipated to complete in 2013.
Back to April 2011