Saudi Arabia to build mile high tower
|
Send to friend
April 14 2011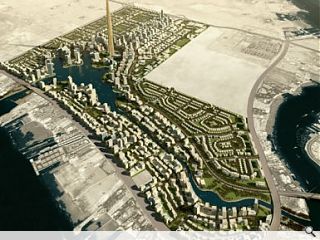 Fifty Five years after Frank Lloyd Wright first dreamed of a mile high tower the vision looks likely to finally become reality after Saudi Arabia's Kingdom Holding Co granted its approval to its own dreams of a mile high edifice.
Casting a shadow over even Dubai's Burj Khalifa (which it doubles in height) the desert skyscraper has been costed at a whopping £12bn to construct.
Estimates suggest it would take 12min for visitors to ascend through all 275 floors in a high speed lift but such technicalities haven't dissuaded the Saudi Royal family from pursuing their ambitions for a world beating structure to play host to hotels, offices, apartments and a shopping centre.
Taking the helm of the towers design will be Adrian Smith + Gordon Gill, an American practice who will design and build the record breaking tower prior to a nine square mile 'city within a city' rising around the towers on the outskirts of Jeddah.
Masterplanned by HOK and Omrania this city will house around 80,000 homes alongside facilities to cater for an expected million tourists per year who are anticipated to come flocking to gawk at the cloud busting set piece.
Back to April 2011