SNP pledge to fund Clyde Fastlink
|
Send to friend
April 14 2011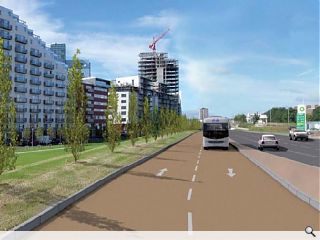 As the Scottish parliament elections draw near the SNP are dangling a £40m carrot before Glaswegian voters with a pledge to back Clyde Fastlink in a bid to retain power.
Deputy First Minister Nicola Sturgeon announced the party was upgrading its backing for the proposal from a "contribution" to stumping up the full whack whilst launching their election manifesto.
The document promises to open up government coffers to the first phase of the planned waterfront link, guaranteeing the dedicated bus link will wend its way to the SECC and Southern General prior to the starting pistol being fired for the 2014 Commonwealth Games.
Sturgeon said: "Other parties only talk about Fastlink. The SNP say it's time to start. The SNP will put in place the funding to make that happen."
It is the latest manifestation of political manoeuvring in the city after
Labour pledged to restart the Glasgow Airport Rail link
– canned by the SNP.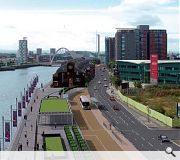 Difficult to reach locales such as the Southern general would fall within the scope of the city centre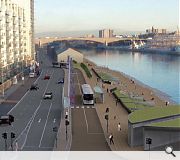 Fastlink would shuttle passengers east and west along Glasgow's revitalised river corridor
Back to April 2011