Kelvingrove art exhibition to document Transport Museum build
|
Send to friend
April 12 2011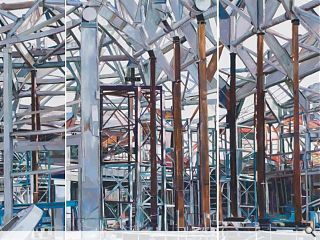 Patricia Cain, winner of the Threadneedle and Aspect prizes for art, is to stage an exhibition in Glasgow's Kelvingrove Museum dedicated to the construction of the cities Zaha Hadid designed Transport Museum.
Drawing (on) Riverside will showcase around 100 works of drawing, painting and sculpture documenting the different phases of construction.
Cain said: "Watching the Clyde landscape changing has had a major influence on my art practice for the last 10 years and as part of this, I've been observing and recording the construction of the new Riverside Museum.
"I've made this process the focus for this exhibition by trying to expose aspects of this through both solo work, and collaborations with Ann Nisbet, Alec Galloway, Rosalind Lawless and Phil Lavery that mirror the working on-site collaborations that occurred."
Running from April 15 – August 14 the free exhibition is intended to provide an insight behind the construction process. The Transport Museum itself will open its doors to the public on June 21.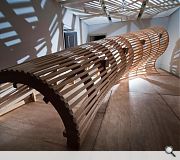 Construction of the architectural installation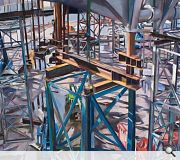 Watercolour images provide a different perspective on the Museum build
Back to April 2011