Mansell progresses St Andrew House strip out
|
Send to friend
April 11 2011
Works to strip cladding from the derelict St Andrew House is proceeding apace thanks to the addition of mastclimbers which are making short order of a prefabricated façade on this derelict 1960s office tower.
Contractor Mansell commenced work on the tower alongside Ryder Architects back in October 2010 with the intention of transforming the decayed structure into a 210 bed Premier Inn.
St Andrew House is being redeveloped by Regent capital plc and ING as part of a £27.5m joint venture.
A layering treatment will be adopted in the façade which features irregular strips of recessed windows for vertical emphasis.
This process will see existing concrete panels replaced with a unitised glazing system as the development approaches its 2012 completion date.
The renovation scheme has been made possible via a Business Premises Renovation Allowance Scheme, a grant designed to encourage renovation and conversion of empty properties.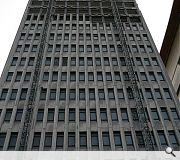 A top down strip will turn the tower see through for a brief spell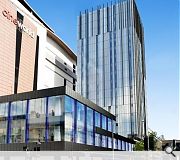 The tower is a prominent landmark within Glasgow city centre
Back to April 2011