Strathclyde University unveil new technology centre
March 11 2011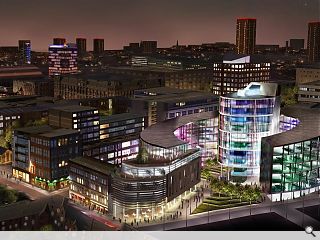 Strathclyde University have unveiled images of a planned £89m Technology and Innovation Centre, to be erected on a brownfield site in the Merchant City district of Glasgow.
Accommodating 850 researchers and scientists the centre is designed to bring businesses, academics and industry together to collaborate on new technologies.
Based on a long standing gap site in the city centre the facility is designed to become a hub for research into energy, renewable technologies, advanced engineering and pharmaceutical manufacturing.
Work on the 22,000 sq/m structure is expected to commence early next year and complete in 2014.
Professor Jim McDonald, Principal of the University of Strathclyde, said: "This city and this country will engineer the technologies of the 21st century just as Glasgow once dominated marine engineering in the 19th century."
Gardiner & Theobald have been appointed as project management consultants although the scheme depicted in the visualisation is conceptual and subject to change.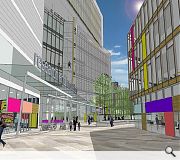 Public realm work has already been laid in the longstanding gap site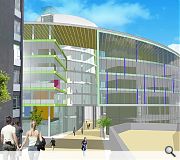 With the neighbouring Collegelands development also taking shape George Street may soon find itself with a properly defined frontage for the first time in decades
Back to March 2011