Manc cash & carry cashes in on MediaCity
March 11 2011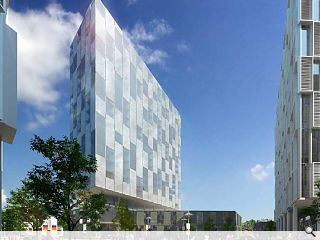 An outline planning application has been made by Batleys Ltd, owners of a cash & carry in Salford Quays, to flatten their warehouse and erect something more befitting of its up and coming locale.
Broadway Malyan in conjunction with WSP have designed the scheme, which will accommodate 70,000sqm of offices, retail, leisure, residential, restaurant/café, hotels with conference facilities and medical centre with associated car parking, landscaping, ancillary works and highways improvements.
This will be phased in over a number of years with phase 1 seeing the creation of office space, a small foodstore and medical centre.
Located on a gateway site to Salford Quays the development would benefit from proximity to the recently completed MediaCity complex and the Quays-Eccles Metrolink line.
Appearance and detailed design of the buildings is here presented in indicative form only but in their submission planning consultants DPP state: "A palette of materials will be developed to respond to the modernity of the Quays, create a high quality and distinguishable environment that emphasises the importance of the gateway."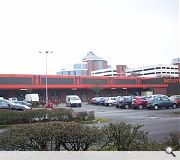 Batleys existing premises make for an awkward neighbour to Peel's behemoth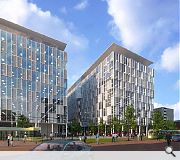 Broadway Malyan promise a modern design to fit in with recent developments
Back to March 2011