New Glasgow Society re-launches
February 26 2011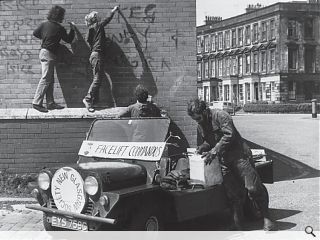 The New Glasgow Society, an organisation established in 1965 in reaction to council plans to route the M8 through the city, is to be re-launched.
Though preservation of Glasgow's historic building stock is an important part of the group's function the society is also keen to promote new projects which it regards as being beneficial to the city.
Though 46 years may have elapsed since the Society's formative years present day members are no less keen to raise awareness of Glasgow's latest ode to the motor car, the M74.
This will see an architectural competition launched for students of both Strathclyde and GSA's architecture schools to look at the effects the motorway will have alongside a series of talks, visits and walking tours.
Simon Chadwick, an associate at Michael Laird Architects, said: "In recent years membership has dwindled somewhat, but we believe that now is the time to breathe new life into the Society. We have refurbished the existing shop/office unit into a small gallery space,
built a new website
and are in the process of editing and preserving the Society's extensive and fascinating archive."
The re-launch will take place on Saturday, March 5 at 16:00 within NGS's shop/gallery space at 1307 Argyle Street.
Back to February 2011