Plans submitted for Gorbals "green" grocer
February 25 2011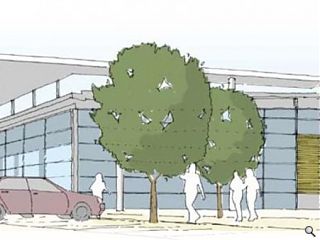 Cathcart Developments Ltd
, a special purpose vehicle set up by Paul Smith, has teamed up with Tesco Stores Ltd to submit a 24 acre masterplan comprising office, residential and hotel elements for the Gorbals district of Glasgow.
Formulated by Cooper Cromar architects, with Manson Architects assuming responsibility for the Tesco foodstore, the scheme will incorporate 105,000sq/ft of office space alongside 200 homes.
The 80,000sq/ft Tesco store will sport a high level "floating" canopy with timber columns together with larch timber clad side elevations. It will also house a number of sustainable features including rainwater harvesting and low energy design.
Public realm will be enhanced with granite paving, public seating and a specimen tree will delineate a walkway from Cathcart Road through to the supermarket. An access road will also be laid through the site with all buildings set back from the pavement line by a landscaped buffer.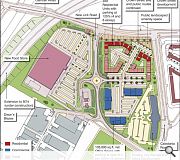 A Cathcart Rd elevation has been sliced off to amintain the axis of Crown Street
Back to February 2011