Denny residents fume over "defaced" Carbuncle
February 22 2011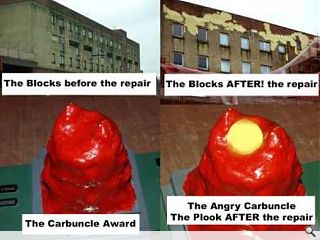 Residents of the Stirlingshire town of Denny have reacted badly to a £170k repair programme at a series of dilapidated 1960s blocks in the town centre after they left observers feeling even more queasy than usual.
The pink and jaundice hulks have now assumed a sickly yellow pallor after officials from Falkirk Council instructed repair work to be carried out in order to combat problems with "water penetration".
The expenditure comes as Falkirk Council stated that they would "accelerate" redevelopment plans for the eyesore blocks following a
public exhibition staged by Urban Realm
, this will see plans to enforce compulsory purchase orders on remaining properties brought forward.
One aghast onlooker, campaigner Brian McCabe, said: "The community are extremely proud of their town and detest the idea that it is being sidelined by a Falkirk-centric council administration. The latest manifestation of 'repairs' has infuriated many.
"We have tried as a local community to have Falkirk Council actually listen and take on board the views of the inhabitants of the town. As yet, all of those efforts, such as the exhibition of the alternative plans, have fallen on deaf ears."
A £15m regeneration plan has been on hold since early 2010.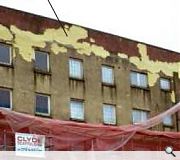 Denny now looks like a paintball fight gone wrong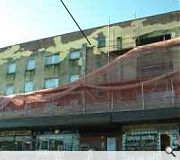 Spot the difference: Denny residents are unhappy with the towns new look
Back to February 2011