British Horse Society moves into £3.5m "Doughnut"
February 22 2011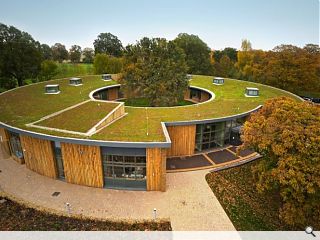 A £3.5m doughnut has completed in the Warwicksire countryside, the new national headquarters for The British Horse Society.
Architects Archial chose to square the circle of design constraints, including a single storey height restriction and the need to preserve a mature oak tree by wrapping their structure around the tree.
Natural materials are employed for the structures construction, including stone, European oak and a sedum roof in order to further marry the structure with its surroundings.
The completed structure houses a range of meeting rooms, a library and break out spaces together with a recreational area in the central courtyard.
Simon Crosby, director in Archial's Birmingham office said: "Our focus was on delivering a high-quality building, using natural and sustainable materials where possible.
"As a result of The Society's strong commitment to sustainability, we employed the latest materials, principles and technology to save energy, reduce running costs and minimise the building's impact on the countryside."
BJB Consultants of Wakefield served as engineers on the development.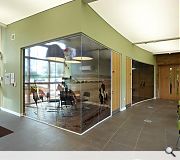 A variety of equine organisations will locate to the facility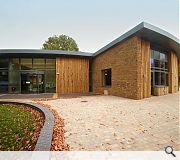 Extensive landscaped grounds encircle the structure
Back to February 2011