Scottish Parliament still hoovering up taxpayer cash
February 16 2011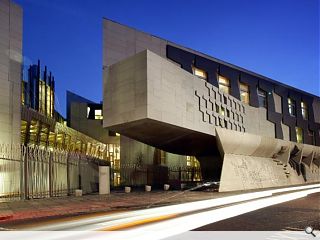 Taxpayers have been hit with a £2.5m bill for continued series of alterations and upgrades to the Scottish Parliament building over the past year – on top of annual running costs of £5m since 2006.
The princely sum was released under a freedom of information request which showed that the budget busting building is still sucking up cash, including an additional £1m which had to be forked out in 2009.
Expensive tinkering to the Parliaments real estate is the root cause of the expenditure, including £412,000 on swipe card turnstiles as an added security precaution.
Other items on MSP's shopping lists were £1m of streetscape works, a £233k vehicle entry system and a £232k concrete chicane.
A Scottish Parliament spokeswoman said: "The figures reflect spend on security measures at the Scottish Parliament over the last two years and also long-term maintenance planning."
The Parliament building, designed by Enric Miralles and RMJM, cost £414m and was completed in 2004.
Image © Scottish Parliamentary Corporate Body - 2011
Back to February 2011