Trump rules out Menie CPOs
January 31 2011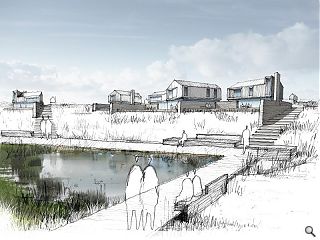 In an uncharacteristicly conciliatory move Donald Trump has promised not to pursue any Compulsory Purchase Orders against families living on land earmarked for the tycoons Aberdeenshire golf resort.
Four homes standing in the way of the £750m golfing mecca, had been presumed to be the subject of a CPO from Aberdeenshire Council when planning permission was granted, but Trump has ruled this weapon of last resort out in favour of continued negotiation.
It is thought that no higher offers will be made to the residents to resolve the impasse, with Trump instead believed to be considering the use of trees to screen the "poorly maintained and unkempt properties" from the gaze of neighbouring golfers.
Speaking to the Press & Journal Trump said: "Press and Journal: "We have consistently said that we have no interest in compulsory purchase and have never applied for it.
"It remains part of the Scottish planning process but we have not, and will not, request that Aberdeenshire Council use their CPO powers to purchase houses.
"The only reason CPO was even brought up by our opposition is that they have consistently lost on every other front and this is the only way for them to continue to gain free publicity on the back of the Trump name."
Tripping up Trump, the opposition Trump alluded to, said: "We're cautiously optimistic about Trump's announcement. Being able to trust Trump doesn't fill us with confidence.
"But for now, let's share a huge sigh of relief with the families of Menie, whose homes have been under threat for too long."
Back to January 2011