Byker estate is Ryding high
January 31 2011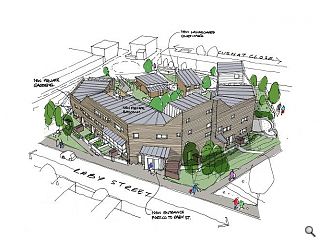 Wates Living Space has commenced a £2m refurbishment of Bolam Coyle in the Grade II* listed Ralph Erskine designed Byker estate for Your Homes Newcastle.
The presently derelict 1970s structure will be remodelled internally by Ryder Architecture and landscape architects Colour UDL to accommodate 15 two to three bed homes.
A failed system of shared access via balconies, which contributed to the complex's closure in 2000, will also be done away with. Instead residents will each benefit from individual front doors at ground level, including private gardens in a secure inner courtyard.
Colin Haylock, Urban Design Director at Ryder Architecture, which is part of the Wates Living Space team, said: "The new design is a radical solution but with very minimal alteration to the external fabric it meets current building regulations and provides homes which meet 21st century expectations in accommodation and energy conservation, achieving Code for Sustainable Homes Level 3.
"The Byker estate is regarded as one of the most important pieces of post war housing redevelopment for its architectural character and the high level of tenant involvement in its creation."
Completion of the scheme is scheduled for January 2012.
Back to January 2011