Orcadian housing approved
January 31 2011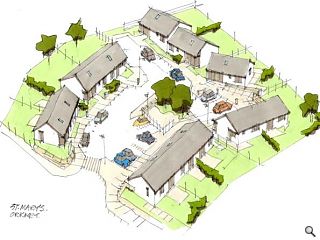 A £1.2m affordable housing development by Archial for the village of St Mary's Holm, has secured planning permission from Orkney Islands Council.
The scheme will see 12 one and three bedroom homes erected on behalf of Orkney Builders to the west of the existing village, comprising eight semi detached units, one detached dwelling and a terrace of three homes.
Archial's Director in Inverness, Mark Fresson, said: "The overall development fits well within the village context. Its layout and appearance is in keeping with the character of St Mary's as a traditional fishing village which has many houses of similar proportions. The houses are arranged around a central public space providing an element of amenity and essential shelter given that the Orkney Islands are on similar latitude to the southern tip of Greenland.
"The houses will be single storey and of a simple design, with a scale and massing giving a traditional feel to the housing. The roofs will be clad in a dark grey slate effect roof with a mix of white rendered and timber cladding to the walls."
All homes will benefit from a landscaped central amenity area which will act as a focal point for the estate.
Back to January 2011