Knockroon planning permission granted
January 24 2011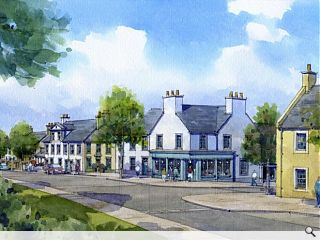 Phase one of Prince Charles's Knockroon development, comprising 87 homes, 12 work units, four commercial buildings and a local shop has been granted planning permission by East Ayrshire Council.
Knockroon lies within the grounds of Dunfries House, purchased by the Prince in 2007, and will eventually extend to some 600 homes over 28 hectares on the outskirts of Cumnock, runner down in the 2009 Carbuncle Awards.
Anne Hope, director of Hope Homes (who are partnering with the Prince), said: "I think this is the sort of place in which families will very much want to set up home. It represents a unique chance to be part of something special, and when it is complete, we feel that the people of Ayrshire will take pride in Knockroon and that those living in Cumnock and Auchinleck will be pleased to be associated with the new community."
The Masterplan for the site was drawn up by the Prince's Foundation for the Built Environment and the project is being overseen by Andrew Hamilton, who is also the Development Director at Poundbury.
The architects for the first phase, to commence construction in the spring, are Lachlan Stewart and Ben Pentreath.
Watercolour images by Edwin Venn.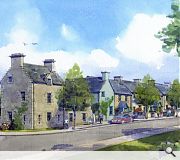 A stone tower house is intended to evoke a traditional Scottish vernacular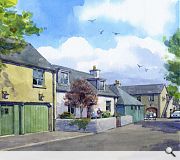 Car parking will be contained in rear courtyards
Back to January 2011