Urban Realm launches Denny design comp
October 6 2010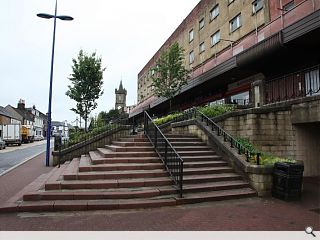 Following the embrace of Denny's citizenry to the Carbuncle cause Urban Realm is to take a look at their town centre and investigate means of improving its aesthetic, function and transport.
This ties in with the theme of 'happiness' in our November issue (guest edited by Wayne Hemingway), as we explore how architecture and design can improve peoples lives.
The only pre-requisite for entry is a good idea so have a look at the brief below and let us know if Denny is up your street.
Photography by Mark Chalmers and Mark Seager.
Denny Town Centre Design Competition: Call for entries
Context
Henry Boot Development has been appointed by Falkirk Council to deliver £13m regeneration plan by Keppie Design for the town of Denny, a district centre to the sub regional hub of Falkirk, lying midway between it and Stirling.
The focus of these efforts lies with a development known as the Church Walk Blocks, a series of four residential/retail units constructed in the late 1960's and which are now long past their sell by date.
Brief
New housing is needed for the Denny area but market forces are pushing this requirement to the suburban eastern fringe. We would like to investigate ways of designing an affordable live/work combination for the town centre which is both buildable and sufficient to the towns future needs..
In addition only 50% of Denny residents regularly use their town centre for their primary food shopping, we therefore require ways of accommodating a superstore of circa 18,000sq/ft together with new public space, including a square, and a replacement library.
Roads infrastructure around the town will require to be upgraded in tandem with these plans, to both reduce congestion and improve pedestrian access.
Who can enter
The competition is open to anyone with an interest in design and, most importantly, a good idea.
Judging
A panel of judges chaired by Wayne Hemingway and encompassing local residents and the Urban realm editorial team will assess submitted work and select their favourite designs.
Prize
The top three designs will be published in the November issue of Urban Realm and their work handed to Henry Boot Ltd and Falkirk Council for their consideration.
Submissions
Submissions need to be received no later than November 8 to meet our publication deadline.
Entrants should contact John Glenday at john.glenday@carnyx.com or 0141 559 6082 for further information. Good luck!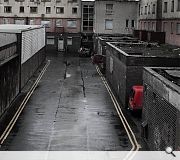 Denny residents are angry at the neglect of their town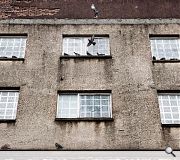 Pigeon fanciers may find much to admire but Denny town centre offers scant attraction to shoppers
Back to October 2010