Moray Council appoint Aedas to schools PPP programme
July 23 2010
Aedas are toasting a successful foray into Moray after the local council appointed the practice to a £40m project to replace Elgin Academy and Keith Primary.
The schools are the first in Scotland to be designed using Revit, a technique which allows a 3d design model to be created from early conceptual design stages through to construction and beyond.
This allows more informed decisions to be taken in regard to solar design and material usage by predicting likely building performance.
Elgin Academy is intended to respond to the vernacular of the area by adopting a two storey form around its parkland setting. Previous circulation issues are addressed by integrating the various departments within a single structure with a "racetrack plan" to increase the flow of traffic.
Keith Primary meanwhile will bring all nursery and primary pupils together in one building for the first time
Keith Primary is expected to be the first school to complete when it opens in October 2011 with Elgin Academy following in February 2012.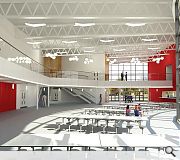 Interior spaces promise to give pupils a rush
Back to July 2010