Student lifts the lid on London mayor for roof competition
July 23 2010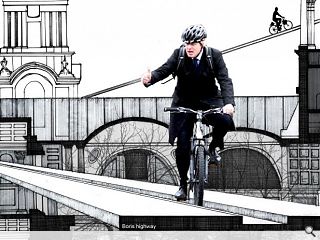 Graham Mitchell Architect's Anna Gibb has given Sir Christopher Wren a run for his money after redesigning the historic dome of St Paul's Cathedral, as an over the top lair for London's bouffant boss.
This madness is product of the 'Design a Roof' competition run in conjunction with Monier Redland and the AJ after Gibb used the compo as a platform to design "A new home for BoJo."
Describing an "affection" for the 'Borisisms' that have come to define Johnson's tenure at his City Hall testicle HQ Gibb chose to emulate the classical vein of the mayor's schooling by emulating the home of Ancient Roman Emperors on Palatine hill.
If its conception was historic its implementation is undeniably modern however with a series of "living pods" suspended bat like above the church floor and a glazed public roof garden topping the mayors wood panelled haunt.
In true secret lair fashion a false door will allow the mayor to escape the bedlam of office to an adjoining private apartment from which he may "survey his domain".
Referencing a preoccupation with cycling - London's Street's have recently been daubed with a noisy Tory blue resin patchwork of cycle lanes, Gibb has created a "Boris highway" to the foot of the Cathedral and around its once graceful dome.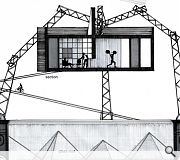 English heritage have not commented on the proposals
Back to July 2010