Carbuncles judges arrive in Denny, "a community in crisis"
July 20 2010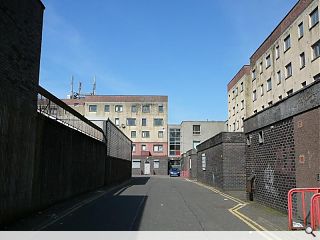 The second leg of our Carbuncles road trip took in the appropriately apocalyptic setting of Denny town centre, a swathe of which is occupied by the utopian modernist ideals of the Denny shopping arcade.
Sadly for locals, this dream has slowly decayed into a dystopian nightmare. Nevertheless plans are afoot by developer Henry Boot and architects Keppie to right this sorry state of affairs.
Their plans call for the creation of 18,000sq/ft of retail space, including an Aldi superstore, in a bid to retain the estimated 50% of shoppers who leave Denny to shop elsewhere.
Not everyone is cock a hoop about this transformation however, chief amongst them Brian McCabe, who told Urban Realm: "Falkirk Council, has a disgraceful record of dismissal and neglect towards Denny and its people, the most recent manifestation of this being the shambles which is the Denny Town Centre Regeneration Project.
Falkirk Council's vision for Denny is myopic in its clarity and criminal in its execution."
Another local, unsolicited, approached the gathering crowd saying: "It's embarrassing bringing friends here, they all point at it."
Describing Denny as a "town and community in crisis", McCabe added: "£275k has been spent on new traffic lights, very handsome but do you know, they didn't give us any new colours. It's a bottleneck and though you are limited by Denny Parish Church the solution is not what the local council have provided."
Colin Frame, a development surveyor at Falkirk Council, has been tasked with fronting these plans to the community, a role he described to Urban Realm as "communication, communication, communication." Notably this entails convincing sceptical locals that their plans amount to anything other than a pipedream after a series of delays dampened optimism.
The most recent hiccup came after the ongoing financial turbulence threatened to scupper the scheme, though Frame insists a series of design revisions, including removal of residential flats after: "market research indicated low demand for flats located above shops," have made the scheme viable once more.
Nevertheless the long running saga in the town is unlikely to end anytime soon after Frame revealed it will take approximately two years to acquire interests needed for phase one, a further year to get phase two up and ready and three years to tackle the remainder.
Referring to the new government McCabe concluded: "They're called the Con Dems, I wish they would condemn this." With judicious patience this wish may yet come to pass, Frame offered to invite McCabe to the ribbon cutting ceremony for the new development when it opens… in 2016.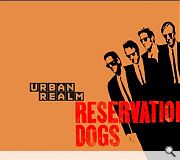 In the guise of "Mr Black" McCabe took Urban Realm's 'Reservation Dogs' on a tour of Denny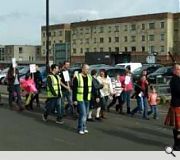 Local anger has been focussed on a series of 'walk around the block' events
Back to July 2010