Co-operative Group mark construction start on Manchester HQ
July 20 2010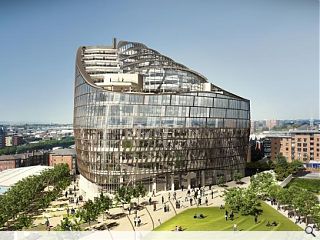 Work has commenced on site of the Co-operative Groups new Manchester head office following the completion of groundworks by contractors BAM and architects 3DReid.
The building marks the first phase in a wider masterplan for the 20 acre site, which aims to bring new office, retail, residential and leisure facilities to the area. It is due to open in June 2012.
Mike Mitchell, lead architect on the project, is proud of the sustainable credentials of his creation which meets the requirements for a BREEAM 'outstanding' rating, he said: "As I understand it there isn't another office building in the country being built to this standard. I firmly believe this will set a new benchmark in sustainable office design in the United Kingdom.
"The building responds to the site by its curved facades which allow people to move from the new square into Angel meadows to the north, hopefully we'll be able to bring some of that greenery and landscaping from the meadows through and around the building to the square itself."
The 15 storey, 325,000sq/ft building is scheduled to complete in 2012 but construction progress can be tracked in real time courtesy of a
strategically positioned webcam
.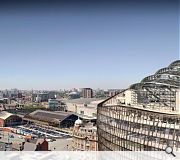 A landscaped public square will allow staff and public to mingle in the space between the Co-op's new and old hq's
Back to July 2010