Phoenix Flowers bed down at Garscube Link
July 16 2010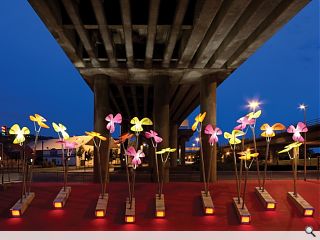 As the residents of Speirs Locks area acclimatise to their brash new pedestrian link photographer Dave Morris has set out to snap this newly sprouted landscape.
Located on Garscube Road in the unpromising context of a motorway flyover the £1.2m public realm project aims to better connect pedestrians and cyclists in north Glasgow with the city centre.
Designed by 7N Architects and RankinFraser Landscape Architects for the Glasgow Canal Regeneration Partnership the link has been christened "Phoenix Flowers", a reference to Phoenic Park which once straddled the site.
Sporting a dramatic bed of metallic plants on a vivid red resin pathway, the psychedelic display is intended to act as a gateway point for visitors and residents to the Forth & Clyde canal with a procession of 50 coloured aluminium "metal petals" guiding people through.
Ewan Anderson, Partner at 7N said: "We set out to "turn up the volume" a bit in the approach to the new underpass to compete with the scale and visual cacophony of the M8 flyover. The intention was to grab some critical territory back for pedestrians and cyclists by giving it a rather otherworldly feel to transform what was previously a grey and mundane experience into a slightly surreal swathe of colour."
Chris Rankin, Partner at RankinFraser added: "The landscape proposals were generated partly as a response to the diverse history of this site and partly as a spatial response to the claustrophobia of the previous underpass. Spatially the continuous flowing surface and colourful flowers contrast with the linear planted terraces which will in time continue up to the canal. The terraces utilise materials reclaimed from the site including stone setts and bedrock excavated during construction. Subtle references to the decorative ironworks which existed here prior to Phoenix Park are found in engraved granite panels."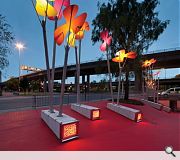 Jonathan Speirs of Speirs & Major acted as "mentor" on the lighting design
The Flowers displace the usual weeds and fungus which generally seed in such fringe environments
Back to July 2010