Tesco submit plans for 'Get Carter' car park
July 15 2010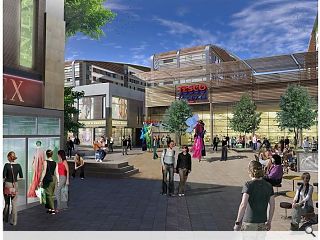 A car park which has dominated Gateshead town centre for 40 years will soon be history after supermarket giant Tesco submitted plans to redevelop the site as a mixed use plaza.
Dubbed
Trinity Square
the £150m development designed by architects 3DReid will provide 45 shops, 38,000 sq/ft of offices, a near 1,000 bed student village, parking, Tesco Extra and the "potential" for a 120 bed hotel.
The new square will be integrated into the existing town centre via enhanced pedestrian links.
Demolition work is expected to recommence on July 26 as a giant "nibbling machine" is set to work, munching away at the Owen Luder designed brutalist landmark in an eight week feast.
Gateshead Council leader, Mick Henry, said of the existing car park: "…it has been a huge talking point and a great location for filming and photography. We all recognise its architectural style, whether loved or hated, but we've long awaited the opportunity to redevelop the town centre to better suit the needs and expectations of people who live and work here."
Trinity Square car park was previously nominated in the
Rubble Club's
"Best Demolished Building Awards."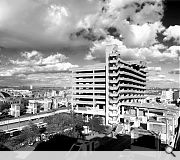 Having split opinion for forty years the landmark car park will soon be levelled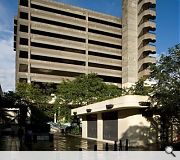 Tesco will be hoping a similar fate does not befall their replacement
Back to July 2010