Carbuncles 2010 judging kicks off with East Kilbride visit
July 12 2010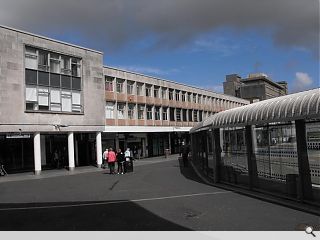 Urban Realm has been on a birlie round the whirlies of East Kilbride as the Carbuncles road show 2010 kicked off with a tour of Scotland's first, and arguably most successful, New Town.
Host to a wealthy and growing population the demographics of this suburban mecca contrast with the usual tales of urban blight the Carbuncles crew have grown accustomed to. But money of itself does not necessarily equate to interesting architecture as was soon discovered.
With Scotland's largest undercover mall at its heart East Kilbride is something of a bellwether for the troubled retail sector, a fact borne out by one local architects guess that up to 10% of the current floorspace is lying vacant.
It is not a situation likely to improve with numerous supermarkets vying to boost their presence in the town, but as architect Neil de Prez of 3DReid asked. Why can't mall managers amalgamate empty units to provide the big box retailers with the floor space they desire?
Nevertheless thanks to a spread of amenities including three nightclubs, an ice rink and cinema the centre remains a hive of activity and significant sums have been expended on revamping the town's bus station and public realm.
Pondering this newly minted landscape Mark Chalmers of Michael Gilmour Associates commented: "This is the kind of environment you'd get in Berlin, stainless steel street furniture and granite paving so they're doing something right. It's expensive stuff."
However Neil de Prez, gazing at a surrounding sea of endless roundabouts and pedestrian underpasses, stated: "You feel you're the underclass here, the car has priority, you're subordinate."
A sceptical Alistair Scott of Smith Scott Mullan added: "Public investment has gone in the wrong things and the private sector is not capitalising on this. It's classic end of year expenditure.
"East Kilbride a great place to bring up the kids but how long can it be sustained? It worked well for its era but it's not transforming as well as it should."
This latter statement is borne out by a series of dismal (some unintentionally amusing) additions to the town, not least of which is the St James Retail centre, yet more out of town shopping in gaudy faux Spanish wrapping.
Ultimately perhaps East Kilbride's greatest failing is a sense of soullessness epitomised by a giant (largely derelict) sports centre housing an "American Golf" store. It is a sad reflection of current planning priorities.
Mark Chalmers
blog entry
recounting the visit provides further observation and commentary.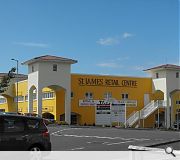 The St James Retail Centre exemplifies EK's current policy of edge of town big box development, albeit somewhat idiosyncratic in this instance
The Stuart Hotels sole guests these days are a family of roosting pigeons. gm+ad have drawn up plans for owners the G1 group to redevelop the site
Back to July 2010