Historic Scotland appraise Perth City Hall demolition plan
June 18 2010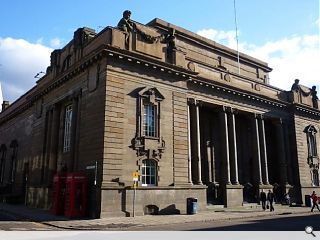 Historic Scotland is to look into Perth City Council's decision to demolish the B listed City Hall as the heritage watchdog continues with a
survey of the city's historic architecture
.
Council chiefs have voted to demolish the historic 1908 concert venue so as to allow construction of a new "public space" to occupy the levelled site. This follows a survey which indicated that hard up Perth Council tax payers, lumbered with rising maintenance costs on the crumbling building, favour calling in the wrecking crews for a venue which has been surplus to requirements since a new £19m concert hall opened.
Proponents of the wrecking ball argue that clearance will eliminate a source of blight and boost the local economy through increased growth and development opportunities.
This follows repeated prevarication by developers Wharfside Regeneration who had promised to turn the halls into a speciality shopping and restaurant centre, these dreams faltered however over difficulty in securing tenants.
Alternative proposals for the reuse of the building as an arts based social enterprise company, Artspace, similarly floundered after the Council ridiculed the financial foundations of the scheme which rested on an email from RBS and a letter from a private backer expressing interest which did not: "allow an appropriate assessment of the scheme's viability", according to Jim Irons, depute chief executive of Perth & Kinross Council.
Irene Watson, founder of artSPACE remained adamant however that their scheme for a community arts centre was fully funded by a private bank, saying: "We have funding in place so we will be looking for a new venue and possibly a new region to work in if nothing is available in Perth. We will be looking for a council which can provide us with a building and/or support."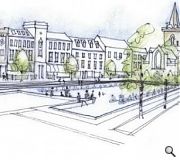 Plans for a civic sq in Perth are proving to be nearly as controversial as those in Aberdeen
Back to June 2010