7N Architects Cowcaddens underpass submerged by mains burst
June 18 2010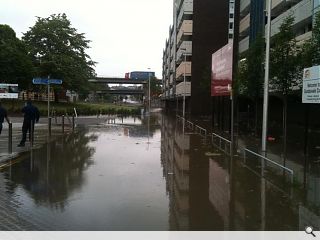 A burst water mains in Glasgow's Cowcaddens district has stoked trouble for 7N Architects with their newly installed street lights and paving sunk under 3m of water.
'Phoenix Flowers', an installation of brightly coloured streetlights, is the first phase in the redevelopment of the wider Speirs Wharf area and was due to have been officially unveiled soon.
Streaming torrents of water could be seen flowing along neighbouring streets leaving one pedestrian underpass flooded almost to the roof.
It left Cowcaddens subway station shut as workers battled to switch off the leaking main and redirect traffic away from rapidly expanding pools of water.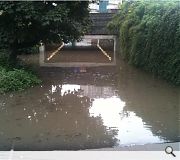 Commuters forgetting to pack a canoe would have been stymmied by this watery obstacle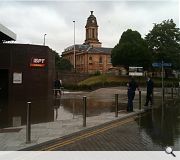 Workers stand helplessly as streams of water gurgle by
Back to June 2010